Butter Chicken (Murgh Makhani)
Similar to Chicken Tikka Masala, Butter Chicken is one of the most popular curries at any Nepalese and Indian household around the world. Aromatic golden chicken pieces in an incredible creamy curry sauce, this Butter Chicken recipe is one of the best you will try! You will love how easy it is to make in the comfort of your own home.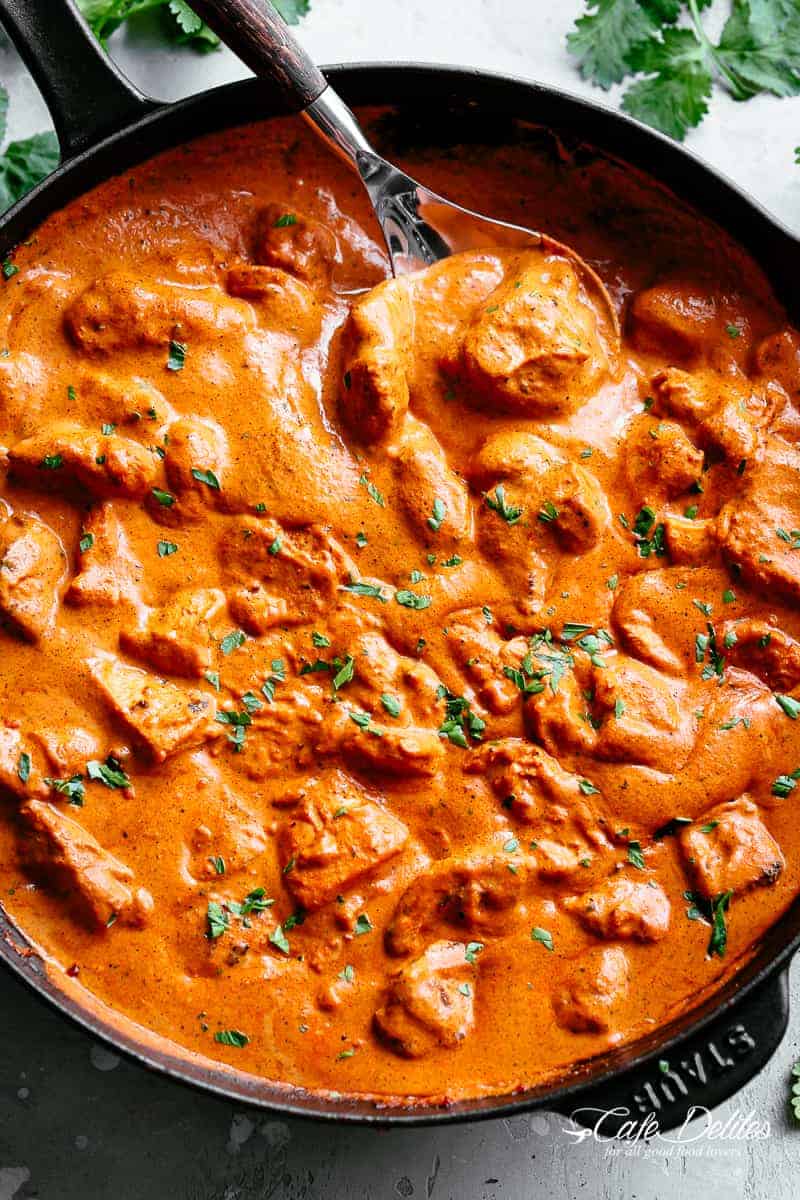 A milder curry when compared to other Nepalese curries makes Butter Chicken a favorite among families with little ones. You can certainly add as much or as little chili as you wish. In other words, YOU are in total control of how spicy you make it.
The juicy and tender, flavor infused chicken starts with an easy yogurt marinade made from scratch: plain yogurt, fresh garlic and ginger, and easy to find spices.
You can use boneless, skinless chicken thighs or breasts.  Dark meat is preferred.
First, mix your yogurt marinade together.
Marinate chicken for 20 minutes, or overnight if time allows. (The longer it marinates, the more tender your chicken will be.)
Sear chicken in a skillet or pan. Keep those charred bits on the pan to make your sauce. Browned bits = flavour. If you have too many burnt pieces stuck to the pan, you can discard some of them if you wish.
Finally, make your curry sauce in the same skillet.
Easy to find spices, for example: Garam masala, Tumeric, Cumin, Red Chili Powder and Salt, are all you need to make a great sauce.
It's all about that sauce when it comes to authentic butter chicken. You'll be surprised to find that you only need an onion, a can of crushed tomatoes, garlic and ginger, and some added spices to continue those beautiful flavours in the sauce.
The trick to making a great sauce is to let the tomatoes cook off for at least 10-15 minutes, until they are almost dry on your pan. Additionally, you can add in a couple tablespoons of water if it dries to early.
After that, blend until smooth and add in your cream (heavy whipping cream or thickened cream). You can use evaporated milk or half and half for a lower calorie option.
If you want a richer sauce, feel free to add a couple tablespoons of butter (or ghee) right at the end, letting it melt though the sauce, before serving. It's served best with rice or naan. Enjoy the heavenly delicacy i.e Butter Chicken.